How Professional Cleaning Ladies Clean a Bathroom
Aside from the kitchen, there is no room in the home more challenging for professional cleaning ladies than the bathroom. Even some of the professional cleaning lady services sometimes have a difficult time with these challenging areas. There so many different types of surfaces in the bathroom and it takes a lot of time to clean. However, because it is such a challenge, this is also one of the most important rooms when it comes to evaluating how effective and dedicated professional cleaning ladies are.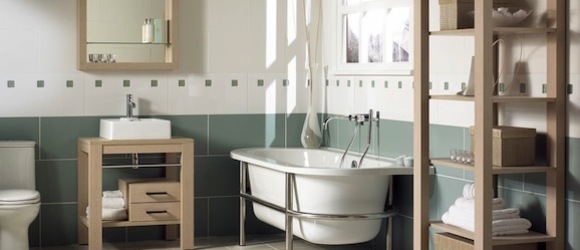 Remove grime and soap scum
Even for professional cleaning ladies, the bathroom is going to take a while. If you are smart, you make sure that you leave certain products 'working' while you focus on things you can do right now. Even those who work for cleaning lady services do not enjoy cleaning toilets, but you can make it loads easier than it ever was. Besides, you do not even need specialty cleaners. You can use:
Cola – Because of the acidity and soda in cola, leaving it in the bowl for 30 to 60 minutes (before you scrub and clean) ensures that you have an easier time cleaning to the bowl.
Mouthwash – A quarter cup of mouthwash in the toilet may not always help the smell, but is certainly going to help remove any spots or stains. Leave the mouthwash to work for about a half hour before you brush and flush.
Antacid tablets – You can toss two antacid tablets into the toilet bowl. It takes about 20 minutes for these to dissolve, but you will notice that the cleaning is much easier than before.
Professional cleaning lady services will leave that to settle while they focus on the rest of the bathroom; remember to work smarter and not harder.
Remove grim and soap scum
Many of the bathroom surfaces, including the glass fiber and acrylic shower units and ceramic tiles around tubs and sinks, can become dull over time. However, you can make them look amazing again with a little hard work and our favorite combination. Professional cleaning ladies can save money (and the environment) by using a combination of two cups of warm water, half a cup of household ammonia, and three tablespoons baking soda on bathroom surfaces. Use a rag or sponge to make the bathroom surface gleam without spending a lot of time or money on it.
Shower curtains and bath mats
Even professional cleaning lady services sometimes forget about these aspects or give them a simple wipe. Remember that bath mats and shower curtains are subject to mildew if not treated properly. Fortunately for professional cleaning ladies, these can be easy to clean once you know how and it really makes a difference. Follow these tips to make it even easier:
Some cleaning lady services also do the laundry, if you do, you can prevent these shower curtains from wrinkling by putting them into the washing machine with two large bath towels, half a cup of baking soda and half a cup of detergent. When doing the rinse cycle, add a cup of vinegar. By immediately hanging them up after washing them, you can let them air-dry and they will look flawless.
You want to keep plastic shower curtains soft and flexible. You can add a few drops of mineral oil to the water you use to rinse them. Occasionally wiping them down with a solution of mineral oil and warm water will help keep them flexible.
Use a disinfectant spray on newly washed shower curtains in order to eliminate the buildup of mildew.
By adding bath towels into the washer with a vinyl or rubber bath mat, you can make sure everything comes out clean. The terry cloth from the bath towels scrubs the mat clean.
Are you looking for cleaning lady services? Find
housekeepers
now!
Housekeepers on Housekeeper.com
Cleaning Lady Jobs

Cleaning Lady Services